After that promotion into the ranks of management, who remembers being whisked away to a multi-day intensive training for their new position requirements, managing people? Not many, I'm sure. For most new managers, they get a "congratulations" and a list of subordinates. According to a recent Gallup poll, over 70% of people who manage people lack the necessary competencies to be great managers. Also according to Gallup, 67% of employees are disengaged or actively disengaged. What connects these two statistics? What drives engagement AND disengagement is the same factor – an employee's relationship with his or her boss. If an employee has a good manager, he or she is more likely to be engaged. Conversely, bad managers lead to more disengaged employees.
The disconnect in most workplaces is that most managers are individual contributors that did so well at their job function, they were asked to manage people who are in a similar job function. People accept managerial positions not because they think they will be good at managing their peers, but rather because it's a path to accelerate career growth and compensation. When the typical new manager is shifted from their individual contributor role to a managerial position, they are given very little training. Most organizations underinvest in selection, training, and development of their people leaders. The thinking is "if you're a great accountant, I'm sure you can manage other accountants!".
So we know that a void exists, but what can we do about it? Companies need an easy and effective way to help managers better understand what engages and drives the people who report them. Managers who have guidance and tools to manage their subordinates will have a better chance of being successful if managing people is not currently in their wheelhouse.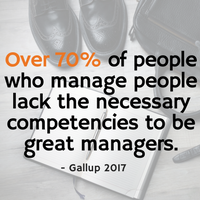 1. What do your team members need from you as a leader? Leaders must be a role model to their employees. Leaders must provide direction and vision about how the job should be done. Leaders should not be afraid to show authority over being in charge, and conversely should inspire their team members to go above and beyond. The Twelve Needs a Leader Must Fill exercise compels leaders to force-rank themselves on 12 leadership attributes, which quickly shows where the focus should be on improving leadership skills. In addition, a leader's subordinates will rank their leader on the 12 leadership attributes. Leaders are then able to see how their self-rating stacks up compared to how their subordinates see their strengths and weaknesses.
2. Part of managing people is understanding what drives them on a number of different levels. The Seven Intrinsic Motivators exercise is a unique tool to understand the primary and secondary motivational drivers of employees, which is key to successfully understanding how to manage the unique differences in employees. For example, if you know one of your subordinates primary intrinsic motivators is autonomy, you may be disengaging that employee by encouraging group work that might not be necessary.
3. Promotions and merit increases, or on the other end of the spectrum, rehabilitating or dismissing under-performing employees, are hard choices that all managers need to make based on facts and logical decision-making. The Performance/Potential Matrix is a tool that managers use to plot each employee based on their level of performance and their potential for making future contributions to the team and organization. Using these two factors to plot employees helps a manager visualize where each employee falls, and how to reward, manage, or counsel out their employees.
4. The Engagement AcceleratorTM is a 13-question assessment that asks employees about their work preferences and engagement drivers. The 13 questions take only minutes to answer, and provides feedback to both the employee and his or her own manager. The feedback within the Engagement Accelerator report is a great starting point for new managers who need help structuring a conversation about an employee's work preferences and goals, as well as the seasoned manager who can use the insights to approach the same conversations about preferences and goals in a different way.
Giving your managers access to management tools such as the ones listed above are a simple and effective way to help your managers learn how to lead and grow. Fostering their management skills will lead not only to more effective leadership, but engaged managers and employees as well.
Bob Kelleher and his team at The Employee Engagement Group will be hosting a breakfast (in the Boston area) and two webinars where we'll
Dive deeper into the research around managerial practices
Review four tools you can use to turn your supervisory staff into great people managers
An introduction to The Engagement AcceleratorTM a brand new concept in assessments measuring work preferences and engagement drivers that can serve as a transformational tool for manager/employee relationships.