Engage Your Audience – Improve Presentations Skills
The ability to engage an audience verbally and physically is one of the most sought-after skills in the business market today. It's also one of the most intimidating. This hands-on workshop provides the participants with the opportunity to make multiple presentations on various topics that will stretch their skills as presenters.  You can conduct this multi-day (8 – 12 hours) workshop using these materials: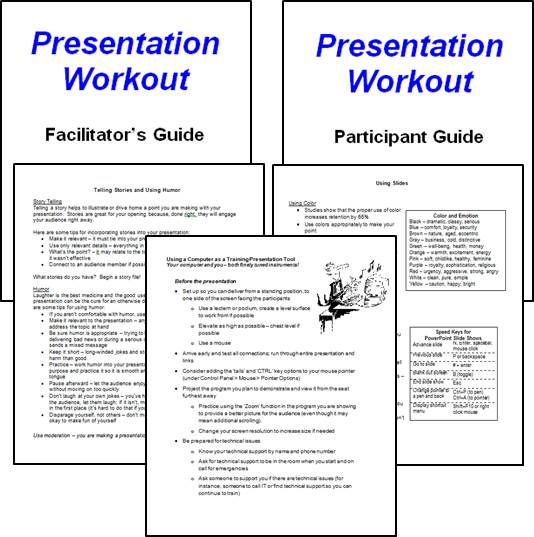 Presentation Workout Facilitator Guide – this workshop is designed to be delivered using a detailed facilitator manual. The workshop is laid out in detail so the facilitator can focus his/her time on each participant's progress.  Click for sample
Presentation Workout Participant Guide – the participant manual provides everything the presenter needs to make the incremental progress toward comfort and confidence in front of an audience.  Click for sample
Additional resources – this module includes ten essential topics to help participants become more effective and successful in every aspect of a presentation.  The additional resources are:

Good Presentation Techniques and Common Mistakes (click for sample)
Handling Questions
Controlling Nervousness and Anxiety (click for sample)
Telling Stories and Using Humor
Tips for Successful Networking
Tips for Talking with Reporters
Using Computers for Presentation (click for sample)
Using Flip Charts and White Boards
Using Slides during a Presentation (click for sample)
Presenting with a Partner
Note: This workshop does not include PowerPoint files; slide shows used during the session are developed by the participants.
Length: 8 – 12 hours
Venue: Classroom