Engaging the Generations

For the first time in history there are four distinct generations in the workforce, each with its own characteristics, dynamics and tendencies.  Leading people from all four generations will continue to be a challenge.  Tools in this workshop will help leaders address the specific generational differences and maintain an engaged workforce, no matter what generation makes it up.
Length: 4 – 8 hours
Venue: Classroom
What you get: You will receive everything you need to conduct a complete workshop or team building event, including: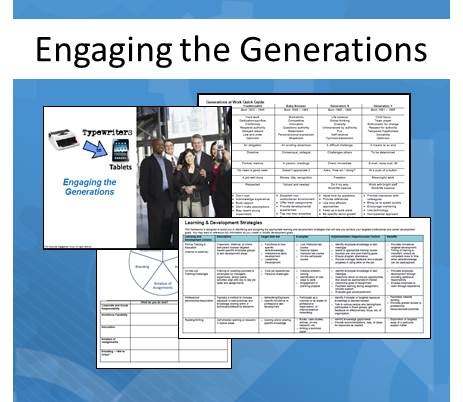 Engaging the Generations slide show – Each of the four generations have distinct characteristics that require both understanding and attention. This workshop provides the most up to date information on the different generations and ways to work in a workplace with several generations working side-by-side.  The slide show includes information and exercises to help the learner become more versed in how the different generations impact the work force.  Click for samples of the slides and facilitator notes
Generations at Work Quick Guide and Reference – The first page of this document is a quick guide participants can use to remind them of the key characteristics of each generation.  This is followed by an in-depth matrix outline of the generations in greater detail.  Click for a sample of this document
Attracting Gen X and Gen Y – As Gen X and Gen Y continue to take major roles in the workplace, it is important to understand the significant business features these generations look for in an employer.  It's not just high pay and great benefits anymore.  This exercise will help you do evaluate how your organization stacks up to the Gen X and Y recruiting needs.  Use this during the workshop and/or as a stand-alone team building exercise.  Click here for a sample
Communicating with the Generations – Each generation has unique needs in the ways they want to receive and share information.  By recognizing these needs and adapting your communication style to each generation, you will be more successful in sharing information with your team.  This resource includes the Communication Promise document to help create more structure around your communications.  Click for a sample
Successful Internal Social Media – Do you Tweet?  Blog?  Vlog?  Do you do it internally? Become more successful at communicating with your employees through social media tools using this checklist of best practices.
Learning and Development Strategies – Training is not the only way you can offer development opportunities, but it's usually the first to come to mind.  The different generations, especially Gen X and Gen Y see a better way to learn and want to know that you see that as well.  Use this quick guide to help make decisions on best methods for helping individual employees grow and develop.  Click here for a sample document
And much more… – this package also includes tools for retention, social media policies, identifying your corporate generational breakdown, and what training methods work best with each generation.