Business NH Magazine Best Companies to Work For
Business NH Magazine and NH Businesses for Social Responsibility are looking for the best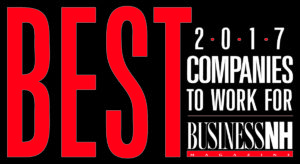 companies to work for in New Hampshire—the businesses whose employees love their jobs, have great benefits, are treated fairly and take pride in the work they do.
What's Involved in Entering the Competition:
Once you pay the entry fee, you will be asked to complete two online processes:
Employer Application – The Employer Application consists of 89 questions about your organization. In consists of multiple choice, short answer, and essay questions of up to 500 words. This application must be completed online and will trigger the second process – the Employee Engagement Survey
Employee Engagement Survey – Every participating company will receive a custom link to an online, 36-question Employee Engagement Survey to be completed by your New Hampshire employees (at least 50% of employees must complete the survey). The data gathered will be specific to your organization and will be shared only with Business NH Magazine as part of the competition evaluation criteria. You will receive a copy of the final survey results as well.

Rules of the Competition
Eligibility
Companies with headquarters in New Hampshire.
Companies with headquarters elsewhere but with 100 or more employees in NH.
Smaller out-of state companies that employ the majority (50% plus 1) of their workforce in New Hampshire.
The employee survey must be completed by 50% of your workforce for NH-based companies or 50% of the NH workforce for out-of-state companies.

Selection of Winners
Winners will be determined by scores achieved on their employer application as well as the results of their employee engagement surveys.
The competition

will not

be limited to 10 winners. Rather, companies that meet a certain threshold will be named the Best Companies to Work For in NH.
Between five and ten of the Top Best Companies will receive site tour visits from judges that will include an interview with the CEO, a meeting with a focus group of employees and a tour of the facility. The site tours will help to determine the final ranking of the top companies.

Entry Guidelines
Responses to the four essay questions must be kept within the allotted word limit.
We will not accept extraneous materials.
The Employer Application and employee surveys must be submitted no later than 5 p.m. on May 19, 2017.

Entry Fee
There is an entry fee of $775 to participate and all applicants (whether they win or not) will receive a comprehensive report detailing their level of employee engagement as well as how they rank against other applicants and national benchmarks.
Winners will be featured in the September issue of Business NH Magazine. Winners will also be celebrated at the Breakfast With the Best event to be held on October 19, 2017 at the Grappone Conference Center in Concord. Contact Editor Matt Mowry at mmowry@BusinessNHmagazine.com or by phone at 603-626-6354 x214.
Entering the Competition
Click the button below to submit your $775 entry fee and receive your 2017 Best Companies to Work For Instruction Packet which includes:
Step by step instructions for completing the process
Link for the Best Places to Work online Employer Application
Example e-mails to send your employees
Timeline to successfully complete the Best Companies to Work For application and survey process
A link to your packet will be e-mailed to the address provided in the shopping cart information.