While our surveys are always tailored to our clients' needs, we are proud to offer comprehensive normative data for AEC firms in particular. We offer a customizable 70-question engagement survey in over 20 languages, with the option to compare your results to industry averages.
We've Helped Some of the Biggest Names in the Industry!

Engagement surveys provide immediate and tangible evidence of your organization's work environment as perceived by your employees. The results, provided in a timely manner, become a road map for strengthening engagement, boosting retention, and encouraging discretionary effort.
Why The Employee Engagement Group?
We have more than 40 combined years of experience serving architects, landscape architects, planners, engineers, builders, and related professional service firms. Laura Doerr, human resources director at Benesch and one of our many satisfied AEC clients, has this to say: "The staff at the Employee Engagement Group are truly responsive. I had a lot of questions along the way, and they responded to me within hours of each request and always did their best to accommodate me. Never once did I feel 'lost' or 'neglected,' which is often the way it goes when working with one of the bigger consulting firms. The reports are comprehensive and allowed us to dig deep into the data."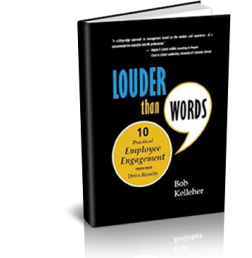 We literally wrote the book on employee engagement! Louder Than Words: 10 Practical Employee Engagement Steps That Drive Results is a best-selling business book on Amazon.com. Many of its principles are drawn from author (and Employee Engagement Group founder) Bob Kelleher's extensive professional experience – 20 years in the industry – culminating in his role as CHRO of an international AEC firm.
Our experience in survey analysis will help you identify the issues that impact your organization most. We help you to prioritize and create strategic plans, and our best-in-class workshops can support your action plans and organizational development.
We'd Love to Hear From You!
Contact survey expert Allan Benowitz directly at (781)281-7257 to find out how The Employee Engagement Group can help your AEC organization thrive!