ENGAGE! Engaging Employees to Drive Results
Overview
Our signature Leadership Workshop is a one to two day interactive workshop that has been delivered to groups and tea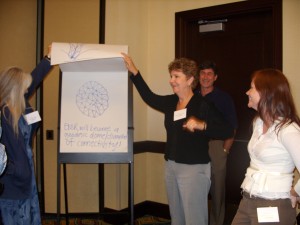 ms throughout the US, Asia, Australia, Canada, South America, Middle East, and Europe, to public companies and government agencies.  Based on the books Louder than Words and Employee Engagement for Dummies, this workshop includes key topics Kelleher's 10 practical employee engagement steps that drive results:
The Definition of Employee Engagement
Making the Business Case for Employee Engagement
Leadership
Communication – the Cornerstone of Engagement
Engaging Generations and Genders
Motivational Drivers
Innovation
Your Employer Value Proposition
Recruiting and Hiring Engaged Employees
Audience
This workshop is designed for:
Leaders (including C-Suite)
Managers
Supervisors
Outcomes
During this highly interactive workshop, you will:
Learn from leading engagement experts
Apply 10 Employee Engagement Steps that will transform your culture
Bring the latest practical employee engagement processes to your organization
Discuss the latest research to make the business case to invest in engaging employees
Understand your leadership baseline and how to become an engaged leader
Develop your own individual action plan to take the steps toward an engaged culture
Have fun!
Plus, you will receive over 30 practical engagement tools that you can use immediately to increase engagement in your organization.
To bring this workshop to your organization, contact Allan
What people are saying:
Engage! was a great workshop!  Many of the tools and resources can be put to use immediately!
Beth Andrew-Berry, SPHR
Manager, Human Resources
American Eagle FCU
"The Employee Engagement Group provided the most impactful workshop we've done for our leadership team.  They provided practical tools for our leaders that could be applied immediately as well as ideas that our senior leadership team can implement on a macro level.  Over 90% of our participants said the information presented was Extremely or Very Useful for their jobs.  We are confident that this workshop will have lasting impact on our organization and our leaders."
Erin Bushnell,
Director of Human Resources
Pennoni Associates Inc
"With over 30 years in the HR Profession and many learning events over those years, I must say  "Engaging Employees to Drive Results" was truly one of the best ever.  This workshop integrates profound examples through years of experience, with tools, cases, and materials that are truly amazing.  I walked out with tools that I could apply immediately across all levels of the organization – CEO to entry level staff. The workshop is presented in 'partnership' with participants and is one where presenters and those in the room learn from and enhance each others' perspectives.   Everyone, CEO to line manager should be running to the benefits of this program! "
Deb Hicks, Chief Human Resources Officer
Dana Farber Cancer Institute
"I have attended many workshops, seminars and training sessions over my 28 years in banking and was amazed on how much I took away from your two day leadership seminar on 'Engaging Employees to Drive Results'. "
Tami Gunsch, VP Retail Banking
Berkshire Bank
"The leadership engagement plan tool helped me concisely capture my next actions with regard to each of the 10 steps of engagement." 
Elizabeth Schirick
Organizational Development Specialist
Babson College
"I found the Engaging Employees to Drive Results" workshop very valuable. The tools provided are very practical and can be easily implemented.  In fact our company is looking at ways to leverage the Communication Protocol tool that was provided in the workshop. "
 Michael Perez, Director of Human Resources
Edison Mission Marketing & Trading, Inc.