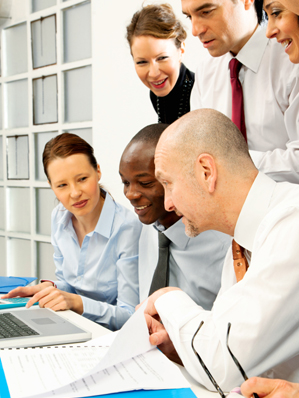 "Because of the Training Toolbox, I spend more time in front of our employees delivering meaningful content."
- C. DiSangro, Shields Healthcare Group
An engaged work environment is one where employees understand that everyone is pulling together with common goals, and where time is invested, not wasted. It is also a place where an organization's culture can transform staff into true ambassadors for the company's brand. This section includes material that engages the work environment:
E-mail Etiquette
Writing a Proper E-mail
Meeting Management Quick Guide
Agenda Template
Creating and Implementing Effective Goals
Time Management Tips
Exit Interview Questions
Not a member? Interested in full access to the Training Toolbox? Contact us for more information, or become a member.
---
The Email Edge - Sharpening your E mail Skills
We spend many hours during the day reading, writing, and organizing email. The Email Edge training materials are designed to help develop a process for becoming more efficient with email.
Improving Performance through Time Management
Managing one's own time is often more challenging than any other aspect of the work day. Competing projects, employees, and bosses, not to mention the distractions of our everyday work and home life, can make a full day at work seem to evaporate without much progress. This section offers training for time management that will enable participants to take control of their daily activities and increase productivity and effectiveness.
Meeting Management
Well-run meetings result in engaging employees who are more productive and efficient. This section covers common meeting themes that, when practiced, will help you make your meetings ones that are well-attended and viewed as a good use of employees' time.
Building a Sales Culture
Every employee should have the opportunity to be part of the sales process. The materials in this section encourage active participation, emphasizing the sales process and demonstrating how all employees contribute.
Presentation Workout
The ability to present one's self verbally and physically is one of the most sought-after skills in the business market today. It's also one of the most intimidating. The materials in this section encourage participants to give multiple presentations on various topics, stretching their skills to find the "speaker within.