The Employee Engagement Group is dedicated to helping organizations shift the dial from potential to performance by engaging employees. By creating mutual accountability and excitement, we open doors to untapped creativity, real innovation, and measurable results.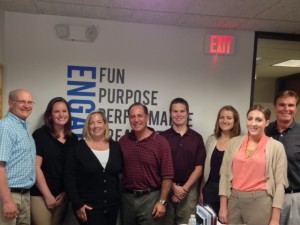 Our combined experience of over 100 years in the OD, HR, and Training space contributes a vast knowledge to the materials in the Training Toolbox, making it the most comprehensive engagement resource available today. The Employee Engagement Group team is made up of HR and OD practitioners who have been inside the 'corporate walls'
and know the challenges faced every day, from the C-Suite to entry-level staff. Principal contributors to building the Training Toolbox include:
Bob Kelleher, our president, has been COO and Chief Human Capital Officer for a 45,000 employee organization. Having written 3 books on the subject Bob is viewed as a thought leader in the Employee Engagement arena.
John Konselman has developed content and built corporate universities for organizations in the print, mail order, litigation support, financial, and engineering industries.
Allan Benowitz was the Director of Training at Goodwin Procter and has expertise in the wide spectrum that is talent management.
Plus our terrific folks who handle lots of the details of the day-to-day operations, without whom nothing would get done!
The Training Toolbox is like having the combined experience of our entire organization at your fingertips. We like to see the Training Toolbox as your personal 'OD on demand' for employee engagement success.
Take a look at the Training Toolbox and explore all that it offers. Remember that all material on the Training Toolbox is fully customizable in Word, PowerPoint, and Excel formats, ready for your company theme and logo. And, you own it forever! No licensing or per-seat fees – just download and go!
We're pleased that you are interested and are excited to help you take your organization to the next level of employee engagement.