New Team Kick-off and Early Development
Are you the leader of a new team?  Bringing a group of individuals together and creating a cohesive, high-performance team is a leadership skill that continues to be in high demand, and businesses that have those leaders are consistently have hire productivity and retention.  This process works as well with established teams that need a jump-start.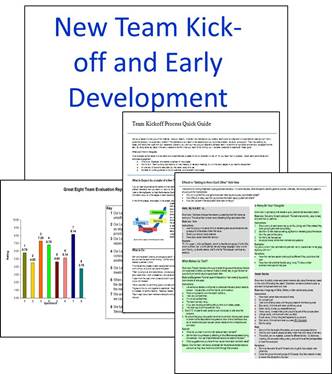 Length: A variety of options are covered including 1-day and multi-day kick-off programs
Venue: Classroom or webinar (for remote teams)
What you get: In this training material package, you will receive these documents in Microsoft Office formats:
New Team Kick-off Meeting slide show – This pre-structured meeting slide show steps you through each of 5 new team kick-off meetings including activities and discussions to ensure your team gets the best start possible.  The slide show mirrors the multi-day team kick-off road map but is easily adapted to the one-day roadmap.  Click for sample
Team Kick-off Roadmap – Multi-Day – This document provides a framework for a comprehensive team building process to take place over a 4-5 week period. To build relationships in the early stage of team development, it's preferable to bring teams together in person as often as possible. Click for sample
Team Kick-off Roadmap – One Day – This document provides a framework for a comprehensive team building process for a one-day, off-site, kick off team meeting to get your team off to a great start.
Team Kick-off Process Quick Guide – A easy-to-follow outline of the new team development process, this one page document is a handy reminder of the keys to starting the team process off right.  Click for sample
Team Performance Rating Worksheet – Based on the acronym PERFORM, this quick team assessment allows your team members to rate all aspect of their performance, leadership, and themselves.
Leadership Team Evaluation – This exercise is specifically for leadership teams but can be adapted to meet any team development needs.  Using ten question evaluation format, leadership team members rate the team as a whole, both as they see themselves and their perception of how their employees see them.  The Leadership Team Results Worksheet helps to easily calculate results and report graphically the team results.  Click for sample of evaluation form and worksheet
Team Communication Techniques Quick Guide – This quick guide offers tips on how to communicate in a team environment including holding one-on-one meetings; creating a communication plan; communicating during change initiatives; communicating with virtual teams;  and team meeting communication techniques.  It also includes best practices for communicating face-to-face, through e-mail, over the phone, and on voice mail.  Click for sample
Effective Team Building Activities Quick Guide – Team building exercises are essential for moving a meeting forward and keeping participants engaged.  This document has a dozen team building activities and provides an overview of best practices while facilitating the exercises.