Make Time to Engage – Key Concepts of Time Management
An engaged employee is a productive employee.  One might say, the more productive an employee is, the more engaged he/she is as well.  So why do some people get so much more done in what seems like less time?  We all have projects, employees, bosses, not to mention the distractions of our everyday work and home life.  By learning to manage your time you will take control of your daily activities and increase productivity and effectiveness.
Length: 4 – 8  hours
Venue: Classroom
What you get: This 4 – 6 hour workshop includes: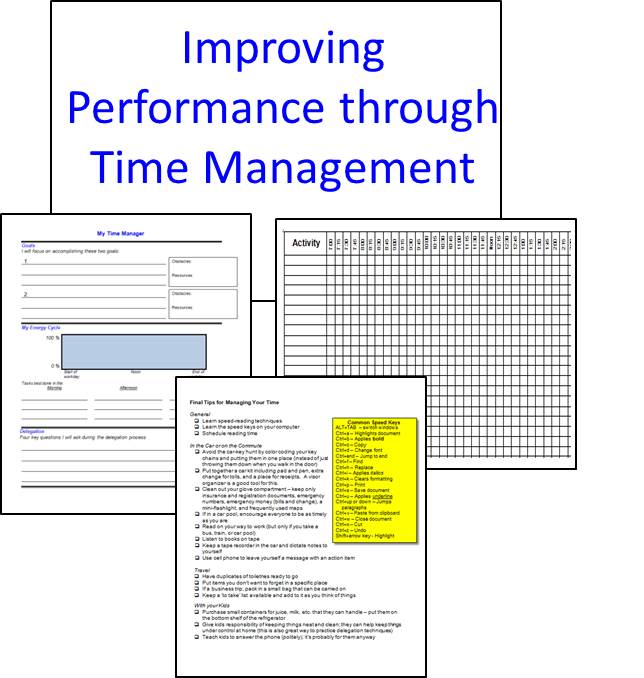 Finding Time to Engage slide show – Designed to be delivered in a classroom, this time management workshop offers participants an interactive and exercise-heavy experience in which they learn by doing. Click for samples of slides and notes
My Time Manager – The My Time Manager tool is blank when the participants begin the long version of the time management course. At the end, it is filled with reminders and commitments of how they will practice the lessons of the workshop. Click for sample
Goal Setting Worksheet – Developing and achieving effective goals will be achieved by following a structure process that includes the SMART goal setting acronym.  This includes successful techniques for taking the steps to accomplish the goals you have set.
Time Modes Exercise – Where of the four modes of time do you spend your time?  Priority mode; Investment mode; Trap mode; or Diversion mode?  Using this exercise, participants will identify where they are spending time and how they can move their activities to improve their use of time. Click for sample
Activity Log – The Activity Log is a tool introduced in the time management workshop that provides participants with the opportunity to track their time. Once they've tracked their time, they are able to make changes that impact how much time is spent doing certain tasks.  Click for sample
Delegation Process – Using the delegation process guide, participants will become more effective at delegating work to others.
Organizational Flow Chart – Organizing what comes into your 'inbox' (e-mail, mail, phone calls, etc.) will be efficient when participants follow this basic guide.  Click for sample
Tips for Managing Your Time – this list of over 40 tips for more effectively managing your time including saving time during commutes, on travel, with your kids and at home.