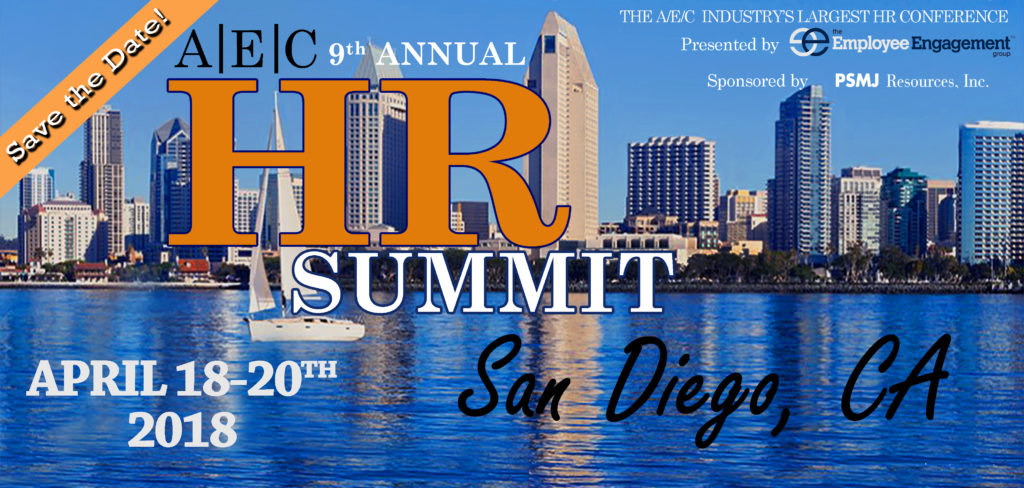 NORTH AMERICA'S LARGEST ANNUAL EVENT FOCUSED ON A/E/C HR!
After years of continued growth and success, we are proud to announce the 9th annual A/E/C HR Summit! In today's fast-changing and competitive landscape for architecture, engineering, and construction firms, the role of HR is becoming more strategic and more critical than ever before.
This summit has attendees learn, network, and engage with hundreds of A/E/C HR professionals and senior-level firm leaders just like you.  It will leave you energized and excited about finding the best talent, a solid grasp on emerging trends in talent acquisition, engagement, and retention; new approaches to learning; the most innovative and effective approaches to compensation and benefits; and the latest case studies in performance management. Learn firsthand why the role of HR has never been more important, and what you can do NOW to shape the future of your organization.
What makes the A/E/C HR Summit different?
Beyond selecting speakers with proven experience and an engaging story to share, this is a unique opportunity because we are 100% A/E/C focused.  Every ounce of this Summit is designed around the industry-specific issues that A/E/C HR professionals and leaders face every day.
You are sure to leave the 2018 A/E/C HR Summit with new ideas, new energy, new business contacts, new friends, and more.
Is the A/E/C HR Summit just for HR professionals?
Not at all! What started out as a gathering of primarily A/E/C HR professionals eight years ago has grown to become way more than that today.  As issues surrounding recruiting, retention, engagement, performance management, compensation and more have become more pressing for an A/E/C firm's entire leadership team, this event has blossomed into the go-to gathering of anyone thinking there is more that their firm could be doing to achieve best-in-class status on HR challenges.
Reserve your room with our special HR Summit guest rate of $199/night
This slideshow requires JavaScript.
2017 in New Orleans, Lousiana
"This was my first summit and I have always heard great things, but it far exceeded what I had heard!" 
-Kay Maddox, HR Generalist - CDG Engineers & Associates, Inc. 
"What a fabulous experience! I have learned so much and look forward to improving our firm."

-Alison Eischens, Director of HR / Talent Aquisition - AlfaTech Consulting Engineers, Inc. 

 

"This is the one conference I never want to miss. Always something that excites and inspires me!" 
-Lise Kifer, Associate - Wallace Engineering

 
REGISTER FOR THE A/E/C HR SUMMIT 2018
Bring a Colleague to the Summit
Everything's better with friends! For every ticket you purchase, you can purchase a second ticket for a colleague at your company at a 50% discount. Registrations can be purchased below for a single person or in bundles for  two, three, and four tickets. If your company is interested in purchasing more than 4 tickets, please contact hrsummit@employeeengagement.com.
** Please note, the drop down selector shows the number of tickets you are purchasing, not the number of bundles.**
Stay tuned and join our mailing list!