Employee Engagement Surveys
Organizations can't expect to engage their employees if they don't know their specific engagement drivers. We can help you design and implement an employee engagement survey tailored to your organizational goals. As experts in employee engagement, we can help you analyze the survey data and develop targeted leadership, engagement, and performance action plans.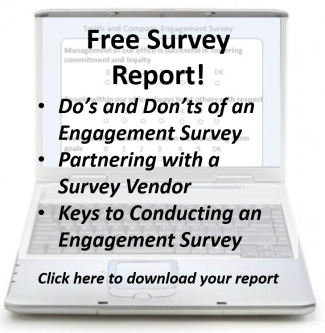 The Employee Engagement Group's employee engagement survey is based on our award winning 10 Steps of Engagement process.  Our approach is to offer our clients a(n)
Cost effective survey methodology to identify what your employees think about their organization

Best in class employee engagement consulting which gives you direction as to what to do with your employees' feedback
Outstanding employee engagement tools, templates, training, and processes in order to implement and sustain an engaged culture
Benefits of Conducting an Employee Engagement Survey
Provide senior management with the insight into your workforce
Measure high performance
Determine if you are hiring the right people
Increase your retention
Enhance management effectiveness
Why Use The Employee Engagement Group?
There are many compelling reasons to use The Employee Engagement Group for conducting your survey, not the least of which are: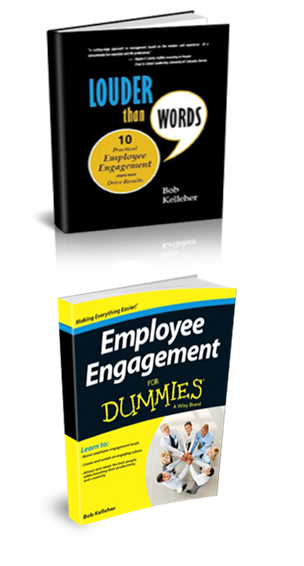 We wrote the books on Employee Engagement! Employee Engagement for Dummies is the newest addition to Wiley Publishing's Dummies franchise and Louder than Words is a best-selling engagement business book on Amazon.
We are global experts and will assist you in prioritizing strategic initiatives to improve employee engagement
Our experience in survey analysis will help you identify the issues that impact your company most
We help you to prioritize and create strategic plans for implementing actions
Our best-in-class workshops will support your action plans and development
Value pricing – why pay more than you need to for the same survey results?
Our exceptional technology partners have over 10 years of experience in leading employee and customer survey projects globally
Our Approach
We are dedicated to providing personal service before, during, and after your survey process:
We will customize your questionnaire to ensure specific information is gathered based on your needs
Reports provided will be comprehensive and include concrete recommendations for next steps and action
Our communication plan template will help you both before and after the survey
Results are timely – the complete process takes 4 – 6 weeks from inception to final report
Contact Allan or at 781-281-7257 for more about an engagement survey by The Employee Engagement Group.
 What Survey Clients Are Saying
"I highly recommend The Employee Engagement Group as a survey vendor.  They are professional, knowledgeable and reliable.  My company was hungry for solid and meaningful data and we got it through this survey.  We had done homegrown surveys previously and this took our process and the data we received to a new, high level"
Dennis Hatch, Senior Director
HR Training and Employee Engagement
Sonesta Hotels, Resorts, and Suites
"The Employee Engagement Group was very responsive, got answers fast, made changes fast. Excellent experience – best thing I can say is that (so far) you've made me look very good in my organization. The Data Reports were very helpful, very thorough, extremely useful. Your debrief provided an excellent context to the data, and some good insight into what the norms are, where other companies struggle, and what we really need to be worried about."
John Koester, PHR
Regional Human Resources Manager
GEI Consultants, Inc
"The Employee Engagement Group took a great deal of time up-front to find out what my issues were in order to make certain they would and could be responsive to my questions and needs.   Tons of data to pour over, but all good and easily understood. My overall comment is, great team to work with, I look forward to working with them again."
Chris DeVault
Director of Human Resources
Goodman Global Group
"I have worked with The Employee Engagement Group for about a year, and can't say enough great things!  We used them to conduct our first company-wide engagement survey, keynote at a leadership offsite, and facilitate an engagement/HIT workshop that  also included review of our survey results.  This is a great team to work with!"
Sharon Broum
Vice President, Human Resources
Momenta Pharmaceuticals
"The staff at TEEG is truly responsive.  I had a lot of questions along the way, and TEEG responded to me within hours of each request and always did their best to accommodate my requests. Never once did I feel "lost" or "neglected" which is often the way it goes when working with one of the bigger consulting firms.  The data reports are comprehensive and allowed us to dig deep into the data".
Laura Backus
Human Resources Director
Benesch
"Very responsive to our needs. The Data generated was helpful and provided relevant and useful data for us moving forward. The debrief with the leadership team was very helpful and we look forward to working with The Employee Engagement Group again."
Shannon Hayes, PHR
Director Human Resources
Timmons Group