Books by Bob Kelleher
Creativeship, A Novel for Evolving Leaders
Creativeship is the new leadership, defined as the creation of great and sustainable cultures and business models made possible through a tenacious focus on purpose, engagement, performance, innovation, branding, and growth.
"Creativeship is a must-read for leaders wanting to position their companies for long-term sustainable growth.  Kelleher not only explains what principles we need to follow to lead effectively, but also why.  As soon as you delve into the book, you'll realize the story is a great read, and the lessons are critical."
  — Bob Nelson, Author
1501 Ways to Reward Employees
See what others are saying about Creativeship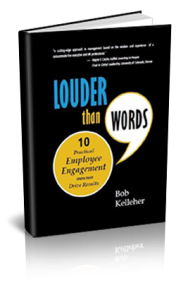 Louder Than Words, 10 Practical Employee Engagement Steps…that Drive Results!
Louder Than Words, the nation's top selling employee engagement book for 2011.  It is available in print and Kindle versions.
"A cutting-edge approach to management based on the wisdom and experience of a consummate line executive and HR professional."

— Wayne F. Cascio, Author, Investing in People
Chair in Global Leadership, University of Colorado, Denver
For bulk orders of 150 or more books, contact Stephanie at 781-281-7256 
---
Other books and products we recommend

 Click on any book to be taken to Amazon.com for a full description and to order.   
| | |
| --- | --- |
|   | To Sell is Human by Daniel H. Pink   According to the U.S. Bureau of Labor Statistics, one in nine Americans works in sales. But dig deeper and a startling truth emerges: Yes, one in nine Americans works in  sales. But so do the other eight. Whether we're  employees pitching colleagues on a new idea, entrepreneurs enticing funders to invest, or parents and teachers cajoling children to study, we spend our days trying to move others. Like it or not, we're all in sales now.  To Sell is Human is a perceptive and practical book–one that will change how you see the world and transform what you do at work, at school, and at home. |
| | |
| --- | --- |
| | How to Win Friends and Influence People by Dale Carnegie   This grandfather of all people-skills books was first published in 1937. It was an overnight hit, eventually selling 15 million copies. How to Win Friends and Influence People is just as useful today as it was when it was first published, because Dale Carnegie had an understanding of human nature that will never be outdated. Carnegie says you can make someone want to do what you want them to by seeing the situation from the other person's point of view and "arousing in the other person an eager want." |
The Five Dysfunctions of a Team  by Patrick Lencioni
InThe Five Dysfunctions of a TeamPatrick Lencioni once again offers a leadership fable that is enthralling and instructive.  Kathryn Petersen, Decision Tech's CEO, faces the ultimate leadership crisis: Uniting a team in such disarray that it threatens to bring down the entire company. Will she succeed? Will she be fired? Will the company fail? Lencioni's utterly gripping tale serves as a timeless reminder that leadership requires as much courage as it does insight.
1501  Ways to Reward Employees  by Bob Nelson
Adapted to meet the needs of an evolving workplace—especially to deal creatively with virtual employees, freelancers and permalancers, international colleagues, and the rule-bending expectations of millennials—its 1,501 low-and no-cost rewards and strategies are drawn from thousands of companies across the globe.
Investing in People by Wayne F. Cassio and John W. Boudreau
More than ever before, HR practitioners must empirically demonstrate a clear link between their practices and firm performance. In, Investing in People: Financial Impact of Human Resource Initiatives, Wayne F. Cascio and John W. Boudreau show exactly how to choose, implement, and use metrics to improve decision-making, optimize organizational effectiveness, and maximize the value of HR investments.
Switch by Chip and Dan Heath
The primary obstacle is a conflict that's built into our brains, say Chip and Dan Heath, authors of the critically acclaimed bestseller Made to Stick. Psychologists have discovered that our minds are ruled by two different systems—the rational mind and the emotional mind—that compete for control. The rational mind wants a great beach body; the emotional mind wants that Oreo cookie. The rational mind wants to change something at work; the emotional mind loves the comfort of the existing routine. This tension can doom a change effort—but if it is overcome, change can come quickly.  In Switch, the Heaths show how everyday people—employees and managers, parents and nurses—have united both minds and, as a result, achieved dramatic results
Fired Up or Burned Out by Michael Stallard
Indisputable evidence has revealed the greatest threat to America's economy. Is it off-shoring labor? Unethical corporate practices? A turbulent market that forces downsizing? No. A Gallup Organization survey of more than one million Americans show that nearly 75 percent of all workers are disengaged. Employee disengagement is a widespread malady in American organizations, causing the loss of billions of dollars, hours of dissatisfaction, and work lives lacking true value. In his book, Fired Up or Burned Out, Michael Stallard shares the three key actions necessary to transform even a lethargic, disconnected organization or office into an impassioned, innovative, and thriving workplace.
Good to Great by Jim Collins
Built to Last, the defining management study of the nineties, showed how great companies triumph over time and how long-term sustained performance can be engineered into the DNA of an enterprise from the very beginning.But what about the company that is not born with great DNA? How can good companies, mediocre companies, even bad companies achieve enduring greatness? For years, this question preyed on the mind of Jim Collins. Are there companies that defy gravity and convert long-term mediocrity or worse into long-term superiority? And if so, what are the universal distinguishing characteristics that cause a company to go from good to great?
Endurance by Alfred Lansing
The astonishing saga of polar explorer Ernest Shackleton's survival for over a year on the ice-bound Antarctic seas, as Time magazine put it, "defined heroism." Alfred Lansing's scrupulously researched and brilliantly narrated book — with over 200,000 copies sold — has long been acknowledged as the definitive account of the Endurance's fateful trip. To write their authoritative story, Lansing consulted with ten of the surviving members and gained access to diaries and personal accounts by eight others. The resulting book has all the immediacy of a first-hand account, expanded with maps and illustrations especially for this edition.
Outliers by Malcolm Gladwell
Malcolm Gladwell takes us on an intellectual journey through the world of "outliers"–the best and the brightest, the most famous and the most successful. He asks the question: what makes high-achievers different?Gladwell's answer is that we pay too much attention to what successful people are like, and too little attention to where they are from: that is, their culture, their family, their generation, and the idiosyncratic experiences of their upbringing. Along the way he explains the secrets of software billionaires, what it takes to be a great soccer player, why Asians are good at math, and what made the Beatles the greatest rock band.