Employee Engagement Specialist Certification Program
The Employee Engagement Group is excited to offer the opportunity to become a Certified Employee Engagement Specialist in New England.  By learning and implementing the key skills that lead to employee engagement within your organization, you will establish yourself as the resident employee engagement expert.
Based on the top-selling engagement books, Louder than Words and Employee Engagement for Dummies, this 10-session program includes tools and techniques to:
Implement key processes that increase engagement
Create systems to effectively manage organizational change
Evaluate and adjust your reward, recognition, and compensation systems
Build alignment through better communication and direction
Find your 'seat at the table' by bringing key engagement drivers and ideas
Increase your professional credibility by receiving up to 40 credits from the HR Certification Institute
When: Kickoff date Septmeber 23rd, then the 3rd Friday of each month for 10 months

Where: Woburn, MA

Time: 8:30am – 12:30pm (networking & light breakfast at 8:00am)
Click here to see the brochure!
In this program you will learn and apply best practices for: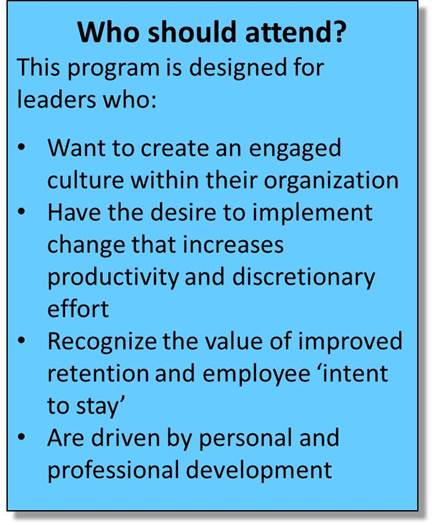 Creating your Employer Value Proposition
Engaging your first-line managers
Communicating with and engaging the Millennials (Generation Y)
Embracing and managing change
Leveraging social media
Creating tools to build high performance
Evaluating and adapting your compensation programs
And much more!
The program is approved for up to 40 credits through the Human Resources Certification Institute (HRCI).*
Certificate Program Costs and Information
Cost of the entire employee engagement specialist program is $3,195.00
Includes all workshop material, a signed copy of Louder than Words, reproducible ready-to-use tools and templates, and continental breakfast. 
Click here for more information! or click the button below to register online
For more information, contact Allan at 781-281-7257

* This program has been approved for up to 40 credit hours toward recertification through the Human Resource Certification Institute.  For more information about certification and recertification, please visit their home page at www.hrci.org.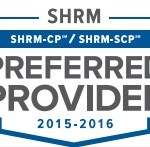 The Employee Engagement Group is recognized by SHRM to offer Professional Development Credits (PDCs) for the SHRM-CPSM or SHRM-SCPSM. 
What Participants are Saying
The Employee Engagement Specialist Certification program is outstanding. During each session practical engagement tools are provided so you are able to go back and implement the concepts in your organization immediately.
Paula Carmichael
North Middlesex Savings Bank
This certificate program was a great experience and the information and knowledge that is learned will help improve any organization.
Carole Martyn
HarborOne Bank
       The team really engaged the learners and able to get all to participate and contribute.
Lucila Kelesoglu
Haemonetics Corp.
       Knowledge base of the instructors is impressive and delivery is excellent.
Christine Stevens
Eastern Bank
Your content has been so helpful…we've used the EVP, the change material, the team development, communication protocol, and the list goes on and on.
Pamela MacDonald
Health Aliance
The Employee Engagement Specialist Certificate Program has been extremely useful. It provides a lot of process, structure and validation to how to engage our employees. Every HR Leader and their teams should go through this. Your leadership team and employees will see you in a different (more strategic) light.   
Michelle Roccia
Winter Wyman
 Highly motivating, interactive program where you have opportunity to share real world experiences with peers.   I came away with not only a new way of looking at our employees, but also a new view of myself as a catalyst for change within the organization.
Darlene Perrone
Beacon Communities
 A great learning opportunity and tools that you can use immediately in your own work environment.    
Steve Ahlquist
DRC
 Classes are fun, interactive and I love that each week I get tools that I could immediately utilize at my work site!  
Janine Taylor
May Institute