What is the Engagement Accelerator?
Did You Know?
Data suggests that an employee's relationship with his or her immediate supervisor is the top predictor of how engaged he or she will be. In fact, according to Gallup, 70 percent of variance in an employee's engagement is directly related to the relationship with his or her manager. The Accelerator was created to boost engagement by providing an easy way for managers and employees to converse on key engagement preferences.
How It Works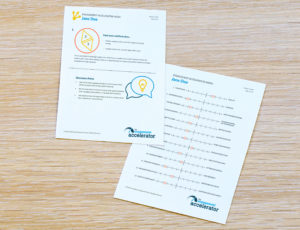 It's an online assessment that only takes 5-10 minutes to complete! Participants first register at eeaccelerator.com with a keycode, then they read a series of 13 statements of preference. Each preference is split into two viewpoints which they rank on a scale of 0-7 based on their work style. Within seconds of submitting, they receive a customized report that interprets their scores. The participant's manager is also sent the same report, along with discussion points for a follow-up meeting, where the employee's preferences are explored in detail.
Ready to Learn More?
We're launching the Engagement Accelerator on March 14th! Contact our surveys and assessment expert, Allan, for more information or a quote at (781) 281-7257 or abenowitz@employeeengagement.com. Also, sign up below to receive updates as we continue to evolve this exciting new product!