What Fuels Your Engagement?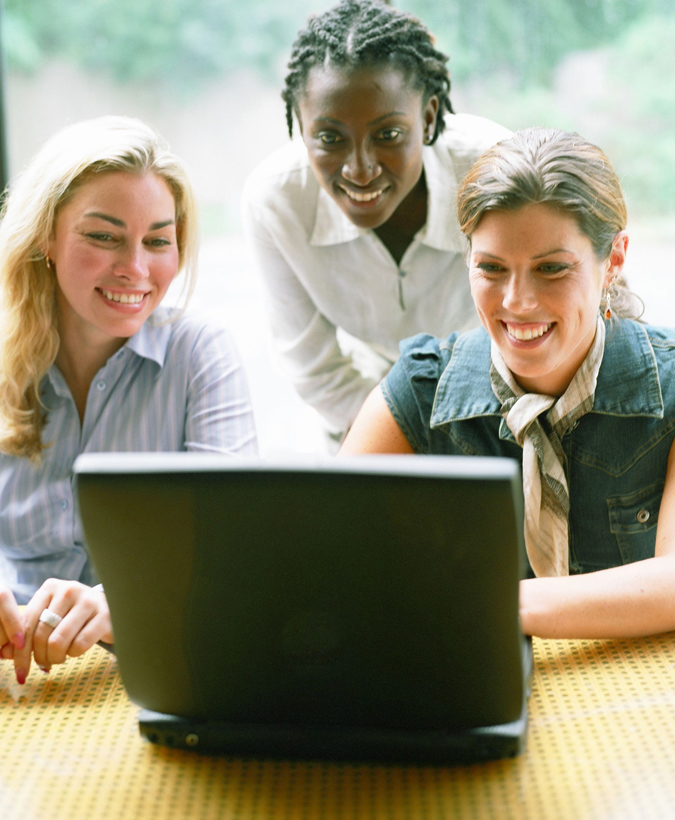 The Engagement Accelerator is an assessment tool designed to identify key engagement drivers and preferred work styles. Based on more than 30 years of engagement insights by employee engagement thought leader and author, Bob Kelleher and his team of organizational development practitioners, the Accelerator investigates 13 categories to provide a snapshot of an employee's work preferences.
Because engagement is an ongoing process, individuals and supervisors may wish to retake the assessment periodically, especially if they change jobs or roles – and managers will benefit from comparing results from year to year.
Did You Know?
Data suggests that an employee's relationship with his or her immediate supervisor is the top predictor of how engaged he or she will be. In fact, according to Gallup, 70 percent of variance in an employee's engagement is directly related to the relationship with his or her manager. The Accelerator was created to boost engagement by providing an easy way for managers and employees to converse on key engagement preferences.
How It Works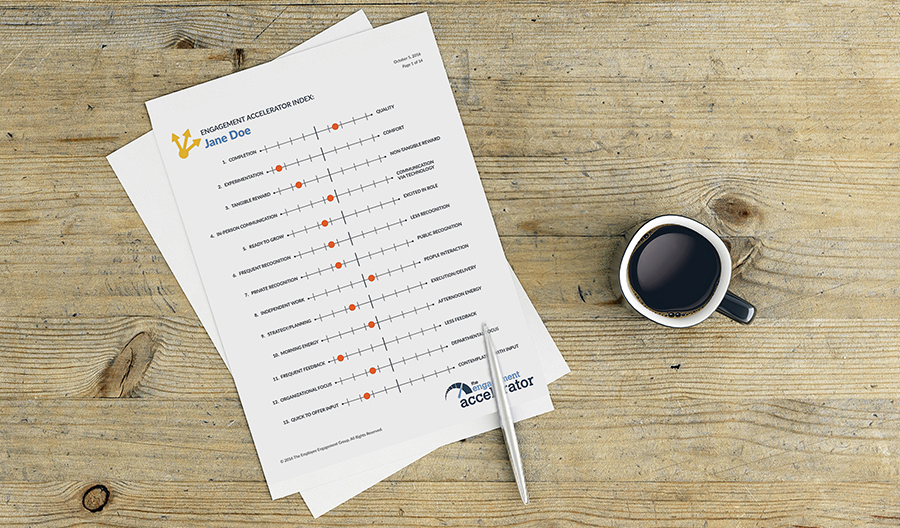 It's an online assessment that only takes 5-10 minutes to complete! Participants first register at eeaccelerator.com with a keycode, then they read a series of 13 statements of preference. Each preference is split into two viewpoints which they rank on a scale of 0-7 based on their work style. Within seconds of submitting, they receive a customized report that interprets their scores. The participant's manager is also sent the same report, along with discussion points for a follow-up meeting, where the employee's preferences are explored in detail.     

We Do the Messaging Legwork
Organizations' purchase of the Accelerator includes a complete Launch Kit to ensure a smooth rollout. This comprehensive document includes sample messages from HR to employees, from managers to employees, and from leadership to all staff. Just cut, paste, and customize!
Ready to Learn More?
We're debuting in January 2017! Contact our surveys and assessment expert, Allan, for more information or a quote at (781) 281-7257 or abenowitz@employeeengagement.com. Also, sign up below to receive updates as we continue to evolve this exciting new product!
Interested in Another Assessment?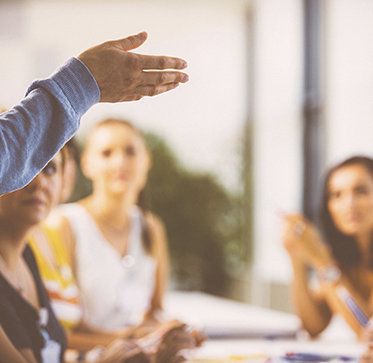 The Employee Engagement Group has developed its own leadership team assessment and is certified in two personal assessment tools. We can integrate one into your training sessions, then facilitate discussions around results. Each tool addresses different needs and we can recommend the one that is right for you.
The Great 10™: The Employee Engagement Group's own leadership team assessment is a perfect diagnostic tool to gauge the current effectiveness and trust of a team. This 10-question assessment is easily customizable and includes industry benchmarks for comparison.
DiSC®: DiSC is a personal assessment tool used to improve work productivity, teamwork, and communication.
Strength Development Inventory® (SDI): SDI is a suite of psychometric tests and a practical methodology for empowering people to improve relationships and manage conflict more effectively.
Earn Professional Development and SPR Credits from SHRM and HRCI!
The Employee Engagement Group is recognized by SHRM to offer Professional Development Credits (PDCs) for the SHRM-HR Certification Institute, CPSMM, or SHRM-SCPSM.